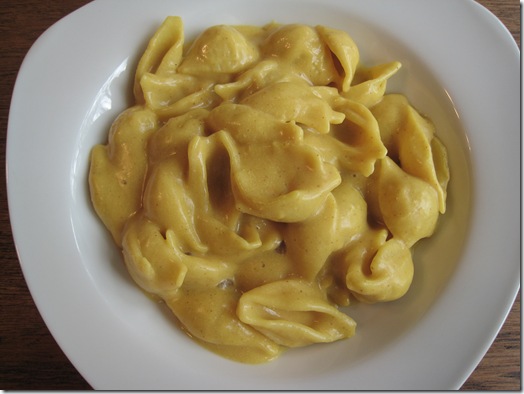 Leave it to SusanV again to come up with a delicious healthy alternative to traditional macaroni and cheese! On her blog
FatFreeVegan Kitchen
she nailed it! I tweeked this a very small ammount to cut even more salt and starch and changed the type of pasta but her message is still there. Enjoy this and check out her quality blog too.
1 pound brown rice or whole grain wheat pasta
Blend together:
1 1/4 cups water
1 cup plain, fat-free soymilk (may use other non-dairy milk)
3/4 cup nutritional yeast
1.5 tablespoons cornstarch or potato starch
1 tablespoon lemon juice
1/2 teaspoon garlic powder
1 teaspoon onion powder
1/2 teaspoon dry mustard
1/2 teaspoon smoked paprika
1/2 teaspoon turmeric
pinch cayenne pepper
2 tablespoons tahini
1 teaspoon mellow white miso
black pepper to taste
Put the pasta on to boil, according to package directions. While it's cooking, blend all remaining ingredients together in a blender. When the pasta is al dente, drain it, reserving about 1/2 cup of the cooking water, and return the pasta to pan. Add the sauce mixture and cook, stirring, until mixture boils and thickens. Add a little of the pasta water if more moistness is needed.
If the sauce is not as flavorful as you'd like, add a little more mustard and onion powder.